Mat I: Beginning and Intermediate Level Exercises (3 days; Course includes Foundations)
Mat 1 includes an introduction to the history and principles of Pilates, the beginning exercises and an introduction to intermediate level exercises with modifications.

Mat II & III: Intermediate/Advanced Exercises (2 days)
Mat 2 & 3 includes the remaining intermediate and advanced level exercises as well as the use of props for advancing clients and providing appropriate modifications. The original Pilates Mat repertoire movements are learned as well as more contemporary exercise sequences.

Reformer I (5 days; 1, 3-day weekend & 2 separate days)
Your equipment education training begins here... Begin teaching Reformer Movements for core stabilization, strength and mobility. Understand movement principles, and the connection of breath with core activation plus, proper set-up, execution and cuing for over 100 exercises.

Reformer II (5 days; 1, 3-day weekend & 2 separate days)
Expand upon your teaching skills with more complex movements and combinations. Utilize a variety of props to enhance muscular connections and firing patterns during the workout and learn integrated training with reformer and tower combinations for added challenges. This training will take your Pilates movement and education to the next level aiding in the continued recruitment of clientele.

Tower Training (5 days; 1, 3-day weekend and 2 separate days)
Advance your movements by incorporating the Tower or Half Trap into your repertoire. This training offers more variety incorporating traditional fitness props to bring unique challenges to core control and stability. Equipment set-up, safety and maintenance is covered as well as how to incorporate the exercise into a client's session. This training is appropriate for learning Trapeze Table, Tower and Wall Unit exercises.

Pilates Fitness Chair (2 days)
Learn the modern day Wunda Chair. Add versatility to your current programming and spice to your mind/body small group training. The Chair Training offers a full repertoire of movement to challenge your client's strength, muscular endurance and balance with over 50 exercises.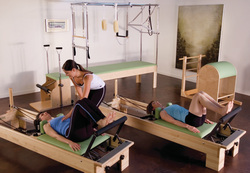 Upon successful completion of the 450-Hour Pilates Teacher Training Program, you will be eligible to apply and sit for the PMA (Pilates Method Alliance) Exam.
Requirements for Completion of the 450-Hour Pilates Teacher Training Program:
Anatomy and Movement Science – includes structure, posture and movement analysis
Pilates Philosophy, History and Code of Ethics
Mat Instructor Training: Exercises for Mat I, II and III; course work, written and practical
Reformer Instructor Training: Exercises for Reformer I & II; course work, written and practical
Tower/Half Trap: course work, written and practical
Chair: course work, written and practical
Ladder Barrel and Spine Corrector: course work, written and practical
75 self-practice hours; 115 student teaching hours, 75 observation hours (approx.. 15 – 20/module)
Final Exam upon completion
---
Workshops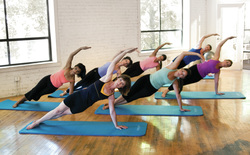 Foundations Principles of Movement & Anatomy (4 hours – included in Mat 1)
Learn the primary muscle movers of the body; the core and spine as it relates to Pilates Training as well as breath practices to enhance movement. These training exercises will elicit core muscle activation – all designed to allow for further understanding and application as studies continue.

The FIT BIZ (4 hours)
Because creativity and passion without income is not sustainable, ZenLates Training Systems offers business training that will help you get and keep clients coming back for more. Learn recruitment and retention strategies and tips on training multiple clients.

Athletic Jump Board Training (4 hours - *included in Reformer 2)
Blast Off with this combination of core training and aerobic exercise with the jump board on the Pilates Reformer. Learn choreographed combinations, interval training plus safety and proper body mechanics. A great workshop to attract the athletic client and those seeking a more cardiovascular workout!

Small Sponge Ball meets Reformer & Mat Work (4 hours - *included in Reformer 1)
Compliment your Pilates Workouts with the use of the small sponge ball. Help your clients protect their back and engage their abdominals in a safe and effective way with this unique versatile prop.

Spine Corrector (Pilates ARC) (1 day)
Enhance your understanding and experience the versatility of the Pilates Arc, often referred to as the Spine Corrector or Step Barrel. Learn classic movements, innovative applications as well as restorative yoga poses. This unique apparatus provides both modifications and challenges.

Ladder Barrel (1 day)
Movement using the ladder barrel isolates deep postural muscles and challenges the body in all planes of movement. Learn a series of exercises and complimentary stretches.

---
Fitness Infused Weekend Training
Mat Work Fusion – the Core Fusion Formula (2 days)
This innovative system of movement is a blend of Fitness Core Training, Pilates Mat, and Yoga Asana. The combination works to strengthen, balance, align and focus the mind/body. Work to create a more powerful core, moving with increased flexibility and endurance. This course will offer both modifications and advancements for each movement and examines the fundamentals of traditional Pilates Mat Work, contemporary core training and flow-style Yoga Postures. Add unique combinations to your existing Mat/Yoga classes or take the first step to teaching a mind/body flow practice.

Barre Fitness (2 days)
Tap in to the popular Ballet Barre method and take your Pilates knowledge in the vertical plane toning the hips and thighs like never before. Warm-up with a full body core activation. Progress to targeted moves to define the legs and seat. Incorporate upper body conditioning with props and plank variations to promote increased core work. Culminate with restorative stretches to re-align and lengthen. This great workout is hot on the fitness scene right now so capitalize on the knowledge and start packing your classes today!

Please Note: MatWork Fusion and Barre Fitness Training Programs are not a certifications, meaning you do not have to renew. Continuing Education Credits are available for petition. A petition form will be provided for ACE, AFAA and PMA CEC's. If you require cec's for a different fitness certification please bring the form for approval information.